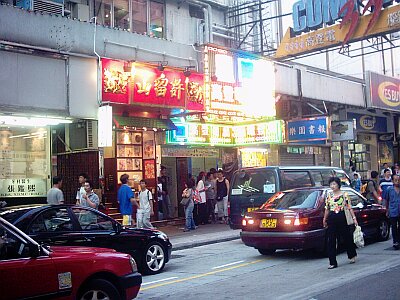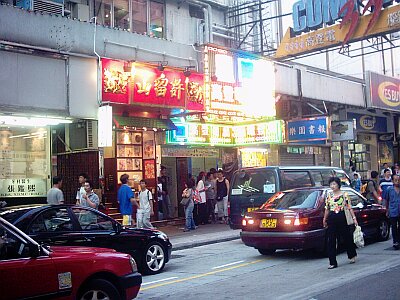 Entrance to the upstairs Golden Computer Center.
Entrance to the upstairs Golden Computer Center
The Golden Computer Arcade and Golden Shopping Center, located on top of each other next to the Sham Shui Po MTR station, are where you can find low-cost computers and peripherals. If you're looking for computer or video games, that's the place to go as well.
This entrance you see in the photo at the top of this page is closest to the MTR station. It gets you into the basement (mainly computer peripherals) and the upper ground floor (computer game machines and games, plus some computer shops and peripherals). The entrance to the first floor, where there are a lot of computer stores, is further down on the right (as shown in the smaller photo to the left).

If you have no interest in computers and electronic gadgets, there's a streetful of clothing hawker stalls nearby where you can find bargain jeans, sweat suits, etc.
The easiest way to get to it is to take the
MTR
to the
Sham Shui Po
station. Take exit D2. Once you're above ground, you will see the entrance to the Golden Computer Arcade across the street slightly to the left.
(2012.2)