Many of our visitors have commended us on our photos. You may be interested to know that for years, we were just using a 4-mega-pixeled pocket camera (Canon PowerShot S45). The photo above was taken with that from the Victoria Peak. That's right! You don't have to have an expensive camera to get acceptable photos for viewing on computer screens. But knowing how to use your camera does help.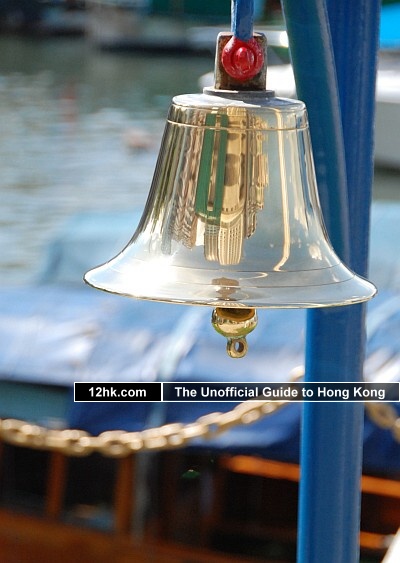 In addition to the Canon S45, now we also have a Canon PowerShot S70, and a Nikon D80. The latter is a DSLR (digital single lens reflex), but it's still not a pro camera. You may ask, "Then what does a DSLR buy you?" It does give you better and sharper pictures.
The biggest plus of a DSLR is having no "shutter lag" - in other words, when the shutter button is pressed, it takes the photo immediately. That's not the case with pocket cameras. With them there's usually a delay of about half a second. For some pictures, it does not matter much, but when you want to capture the moment, it makes a big difference.
Another advantage of a DSLR is the ability to take photos with the subject in focus while blurring the background. The photo to the right is a good example. (Right: the bell at the noonday gun site at Causeway Bay Marina / Typhoon Shelter.)