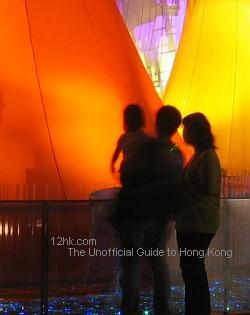 Also known as the moon festival or the mooncake festival, Mid-Autumn festival is one time of year that children in Hong Kong look forward to - especially those who like to play with fire!

The 15th day of the 8th month on the lunar calendar is the main day of the festival, which usually falls some time in September, varying from year to year. Eating moon-cakes, playing with lanterns and candles, and watching the full moon at night are the attractions. Major parks, beaches, neighborhood playgrounds, and even rooftops are filled with families in the evening to celebrate it. In recent years, the government also organizes activities and displays to commenorate the day. (Left: a family admiring some displays in Victoria Park around Mid-Autumn festival.)

Mid-Autumn Festival dates:
year 2010: Sept 22.
year 2011: Sept 12.


Above: lanterns for sale around Mid-Autumn Festival.


Above: a beauty next to a big fan in Victoria Park around Mid-Autumn festival.